Оther
To Axie Infinity and Beyond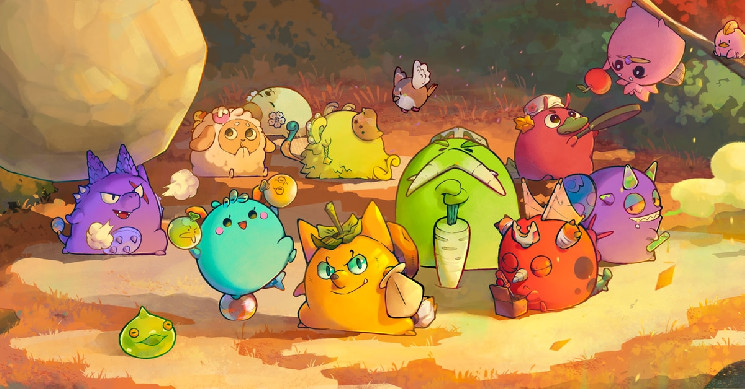 This week, Axie Infinity announced the launch of its card-based strategy game Axie Infinity: Origins on the Apple App Store in some of its biggest markets across Asia and Latin America, giving its native AXS token a brief bump.
Plus, Jack Butcher released a new NFT collection called Elements that are paired with physical prints, and DappRadar released a new report predicting that NFT trading volume is on track to dip below $1 billion for the first time this year. But how important is NFT trading volume anyway?
This Week's Alpha
Axie's App Store debut: Popular NFT gaming project Axie Infinity launched its card-based strategy game Axie Infinity: Origins on the Apple App Store across its key markets in Latin America and Asia. The game was previously available in limited regions on the Google Play store and through the company's Mavis Hub. People can start playing with free non-NFT «starter» characters and the game currently has 1.5 million installs across all platforms.
AXS surge: Axie Infinity's native cryptocurrency AXS jumped over 12% from $7.16 to $8.04 after the news was reported, becoming the top gainer on CoinDesk Indices' leaderboard. The bump didn't last however and the token is trading at just under $7 as of writing.
The fifth element: Artist Jack Butcher has released another NFT collection called Checks Elements that expands his popular Checks ecosystem with physical prints. The new 152-piece generative art collection explores the four classical elements of earth, fire, water and air and uses his signature Checks motifs and grid. Each NFT in the collection comes with a paired monoprint. Part of the collection is currently being offered at auction through Christie's.
Consensus of truth: Butcher told me that Checks Elements explores the «ever-evolving relationship between consensus and truth.»
NFT and physical pairs: A burn mechanism was not built into the project, meaning that the physical prints and NFTs can be sold separately. However, Butcher said that in the long-term, the idea is for the NFTs to "exist as pairs that sit together as a complement to the existing checks ecosystem.»
Should we care about NFT trading volume? A new report by DappRadar released on Thursday said that NFT trading volume was on track to dip below $1 billion for the first time this year and is lagging behind last month's numbers. In contrast, there have been 2.3 million sales executed so far this month and a notable increase in the number of weekly active wallets interacting with NFTs.
What does this mean? Sara Gherghelas, a blockchain analyst at DappRadar, told me that these numbers may signal that there are more NFT traders in the market making smaller dollar-figure trades.
Trading volume metric: Trading volume remains an important metric for measuring activity in the NFT market, though it has the potential to be manipulated by wash trading and transactions done by a small number of ultra-wealthy traders. Overall, the metric remains a useful indicator of trader behavior but should be considered in the context of the current market.
Projects on the Rise
The Memes by 6529Who: @punk6529What: Created in June 2022, pseudonymous Twitter personality and NFT collector Punk 6529 has been steadily releasing a collection of art NFTs based that references pop culture and memes. The collection, divided into three "seasons," has released 99 ERC-1155 token editions, resulting in about 77,000 total NFTs minted as part of the collection. At the time of writing, the collection has done 20,347 ETH in total volume (nearly $37 million), according to OpenSea. According to the 6529 website, the Memes collection "is focused on the fight for the open metaverse" and has been created by a number of artists.Why: The project recently received some buzz after Gregory Schneider, deputy general counsel for Hedera, created a tool that allows people to add "Meet Summer Glasses," a collectible created in the first season, to any image. The meme and its underlying asset are CC0, which means that anyone can remix the image.
In Other News
Higher standards: ERC-721C, a proposal to put NFT royalties on-chain to avoid marketplaces like Blur from dropping creator royalties to zero, picked up steam this week, alongside another draft proposal called ERC-6551, which would allow NFTs to be used as a "holding identity" rather than a single asset.Bitcoin is doing OKX: Crypto exchange OKX will soon launch a Bitcoin NFT marketplace, with its OKX wallet set to become the first multichain wallet to support BRC-20 trading.AI crackdown: At a hearing held by a Senate Judiciary subcommittee this week, U.S. regulators spoke in favor of creating an artificial intelligence regulator. OpenAI CEO Sam Altman said that AI tech could go "quite wrong" and that he fears it could cause "significant harm to the world."Degen bingo: Molly White, researcher and creator of Web3 is Going Great, shared this Web3 bingo card we're pulling out the next time we're at a conference:
Non-Fungible Toolkit
BRC-20 Explained: How Tokens on Bitcoin Work
If you've heard of ordinals NFTs aka Bitcoin NFTs, you may know that they work pretty differently than say traditional NFTs on Ethereum. Instead of the metadata of the token pointing to an external file, the whole artwork (or video or music file, etc.) is kept on-chain and is kept in the witness signature field of Bitcoin transactions.
Recently, tokens on Bitcoin have taken the crypto world by storm because of a new proposal called BRC-20, modeled and named after ERC-20, which uses the same ordinals inscription back-end as the NFTs. But while the naming is similar, there are no smart contracts and they are currently not listed on most exchanges. It's a bit complicated so we broke it down in a new explainer:
Read about how BRC-20 works and why it's sparked controversy in the Bitcoin community